Best Transformation With Color
SAMANTHA
GUHR
Lumi Extension Bar + Salon
Schererville, IN
From blonde to red! Using all matrix color. Then I added a 20" Spiced crimson weft, 20" dreamsickle tapes for color/dimension and 20" white blonde ktips for the money piece!

Best Transformation Without Color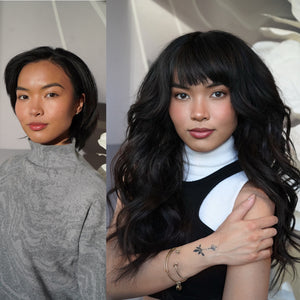 MADELINE
MINZEY
Madm Hair Studio
Denver, CO
Blended to Perfection Off black and Jet Black 20" Handtied wefts and K Tips

Best Collaboration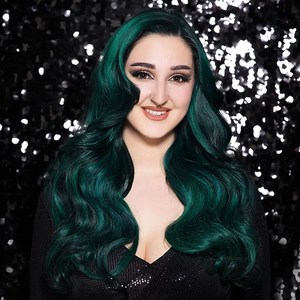 Planet Salon
Los Angeles, CA
My amazing model Jade has the beautiful 24" volume weft in Marble Blends, Bronde colour, and two packs of K-tips in 24", one in Highlighted Hot Toffee and one in Ombré Mochachino/Dirty Blonde. I used the volume weft in the interior part of the hair to give ultimate fullness and density and around the hairline I did a blend of the two k tip colours alternating to give a natural balayage effect. Samer my partner in crime when it comes to all things hair did the styling and helped colour all the extensions! Team work made the dream work on this collab! Using these dimensional colour blends, it was the perfect palette to put Aveda Vibrants custom Emerald colour over the top of the extensions to create a cruelty free dimensional hair color and length transformation!

Best Under-the-Hood
JESSICA
IOZZO
Bond Girl Hair
Toronto, ON, Canada
They don't call me Bond girl for nothing. My model is wearing shades 80 White Blonde and 90 Beige Blonde in 22" Ktips.

Best Avant-Garde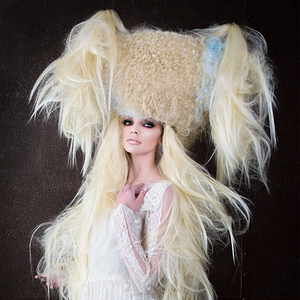 ANNA BIANCA
CULPEPPER
ABH inc
Redlands, CA
Weft 24 inch beige blonde

Best Video / Reel
ALEXANDER
MONTESDEOCA
Salon Runway
New Orleans, LA
First, I did a full highlight, followed by toning the hair with "redken shades eq" (10gi/10vv), and used the volume wefts to create both length and fullness. Next, I used I-tips to create fullness around the face. Finally, to conclude this beautiful look, I used 22" volume weft/i tips in "ash blonde".

Best Cut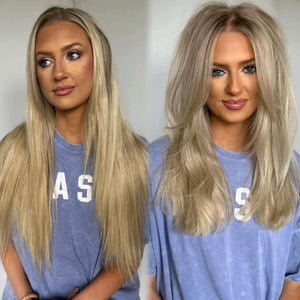 TYLAR
SUNNER
Wild Roots Hair Lounge + Boutique
Valdosta, GA
Removed 2 rows MTW and 4 tape sandwiches and left 1 row of MTW in #3/60 and layered her hair for max volume and movement

Best Editorial Look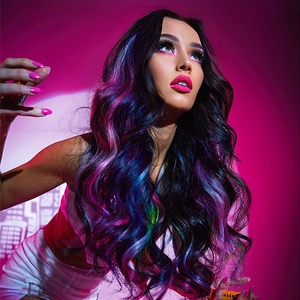 MACKENZIE
LABINE
Wild Hare Salon and Gallery
Minneapolis, MN
In this look on Katarina I used 1 pack of Bellami Pro 22" tape in and 1 pack of 24" tape ins in white blonde. I custom colored them and added some tinsel with single sided tape tabs for a wild look. We added this to her already installed 175 grams of 24" 1B volume weft hair. Our inspo was Attack of the 50ft Woman, I imagined her being chased by helicopters while she attacks everyone below!! Hair installed by me, colored by me, makeup by @cincitycreates and photog by @jamesgro2199 for this editorial look. Thank you for your giving us this opportunity to create art!! -Mackenzie

Best Bridal Look
SENADA
CEKA
318 Salon
Staten Island, NY
I create all bridal looks, I'm known for the holly wood waves. I use the silk seam 22inch 240 gram clip in extensions on all of my brides. I use all shades, it depends on my bride's hair color. I only use Bellami.

BELLAMI'S Choice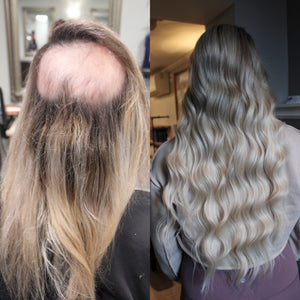 ALINAH
DOMINGS
Salon North
Manchester, NH
My client had a brain tumor removed roughly 5 years ago. It is likely that she may never grow hair in this spot again. I spent months trying to create a solution for this sweet client and was finally able to create one. For this look, I used 2 packs of 22 inch walnut brown/ash blonde tapes in her nape and sides. I then was able to integrate a piece of mesh, which I then sewed a piece of weft onto. I used a 20 inch long volume weft in the same shade walnut brown/ash blonde that was cut about 8 inches wide. The mesh allowed me to evenly distribute the weight of the extension, as the hair that has been able to grow in this spot is sparse and fragile. Being able to come up with these kinds of solutions for these clients is so fulfilling. I am so very proud of this work.